HR Services >>
HR Services
The HR Services vertical provides an array of customized services which have been engineered and developed at Bluesky. These services are managed by a team of experts at our back end with considerable process controls and proficiency in the domain. Such services reduce the need to have your in-house HR focus on such operational work enabling them to focus on strategic priorities.

In today's day and age every organization must me agile and light to maneuver profitably. Outsourcing non-core functions allows companies to focus on their core businesses, and control non-core business expenses. Further these activities can be controlled through specific SLA's which may not be possible to achieve when such functions are managed in-house within the Organisation.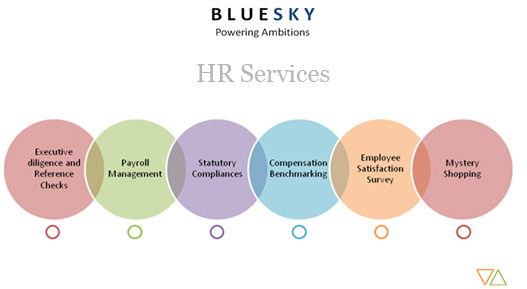 Executive Due Diligence

Specially customized for Middle and Sr. Level executives
Eliminates the margin of error in assessment
Provides a 360 degrees perspective
Addresses integrity and exaggerated contributions

The Executive Due Diligence is a 360 degree check that focuses on the past performance and credentials of an individual. Apart from mere performance the check aims to examine critical competencies and integrity of the individual.
Reference Checks

Standard Reference Checks
Criminal Checks
Address Verification
Education Checks

Performance Audits

Mystery Shopping
Performance Audits

Interview assessment can never be 100% accurate. Inputs on the candidates past obtained from previous Companies and superiors reinforce and corroborate the Selection decision. Mystery audits and performance audits facilitate greater efficiency in customer facing role and provide valuable inputs for training and recognition roles
Payroll Processes

Payroll Process for multiple locations and divisions
On Line/Email option for pay slips
Direct bank transfers
PF/ESI/Form 16, 
Tax projections and calculations

Outsourcing payroll brings along best practices and relieves the Company from managing this activity in-house freeing the productive time of the in-house team. Our payroll systems manage the entire service delivery on an end to end basis which includes statutory compliances
Some additional customized services:
Recruitment Processes

Compensation Processes

Personnel Processes

Screening of Applications
Database Management
Preliminary Interviews
Psychometric testing
Recruitment Process Outsourcing
Medical check-ups
Joining formalities




Benefits Administration
Medical reimbursement
Insurance processing
Compensation benchmarking and normalization

Exit Interviews
Final Settlements
Statutory Compliances
Employee Attitude Surveys